Signing LOI for BIM application at the Tri An extended HPP
12:28 | 09/06/2020
- On June 4, in Hanoi, Electricity of Vietnam (EVN), British Embassy in Vietnam and Steering Committee for Building Information Modeling (BIM) application project under the Ministry of Construction signed a letter of intent (LOI) for BIM application at Tri An Extended Hydropower Plant Project (HPP) with a capacity of 200 MW.
According to EVN Deputy General Director, Mr. Nguyen Tai Anh, BIM is a new technology, developed on the base of digital technology, widely applied in the construction industry in many countries. BIM is considered as one of the important solutions to approach the 4.0 Industrial Revolution in the construction sector.
In Vietnam, BIM application in the project design, construction, management and operation has been implemented since 2016 and approved by the Prime Minister in the Decision No. 2500 / QD-TTg dated 22/12/2016.
Applying BIM will enhance the transparency and convenience in managing quality and operation of construction project with an, aim to save at least 30% of the costs.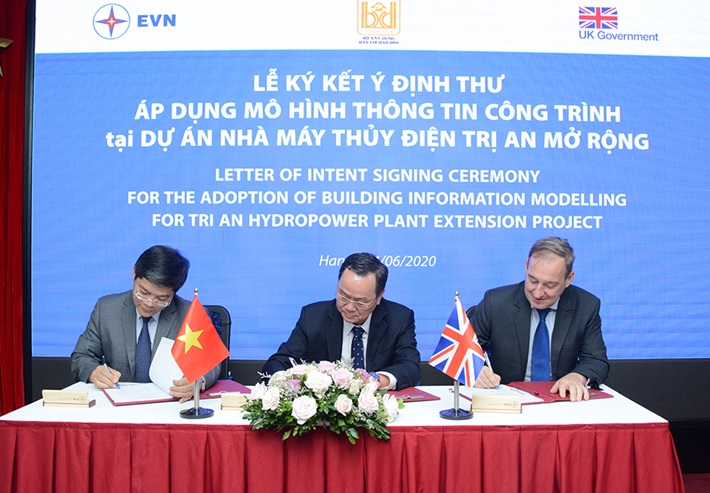 From left to right: Mr. Nguyen Tai Anh - Deputy General Director of EVN, Mr. Le Van Cu - Director of Institute of Construction Economics, Deputy Head of Steering Committee for BIM application under Ministry of Construction, Mr. Stephen Lysaght – British Deputy Ambassador to Vietnam sign the LOI
The Tri An HPP has been chosen to participate in the UK Global Infrastructure Program supported by the Prosperity Fund for implementing BIM pilo.
"Participating in the program will help EVN's technical staff access and apply new solutions, to improve productivity, quality, save resources in activities of constructing, managing and operating the power projects"- Mr. Nguyen Tai Anh said.
The Power Project Management Board 3 (the unit on behalf of EVN to implement Tri An extended HPP) is assigned to implement BIM pilot application from the feasibility study report establishment to constructing and handing over project to operating unit.
The project is expected to help prove the effectiveness of BIM method in practice, and this method will be widely applied for the power projects in EVN
At the ceremony, Mr. Stephen Lysaght - British Ambassador to Vietnam expressed his pleasure and confidence as he knows EVN, the large enterprise has played an important role in economic development in Vietnam recent years to take part in the program.
The achievement of EVN as improving the access to electricity has helped improve the living standards of the people and ensure the justice, and sustainable development.
The British Ambassador expressed his hope that in coming time, EVN will contribute a very important part to the green energy revolution in Vietnam.
VER.