Groundbreaking Vinh Tan 4 Thermal Power Project Extension
08:32 | 26/04/2016
- On April 23, at Vinh Tan Power Centre, Vinh Tan commune, Tuy Phong District, Binh Thuan Province, Electricity of Vietnam (EVN) held a ceremony on Groundbreaking construction of Vinh Tan 4 Thermal Power Project (TPP) Extension.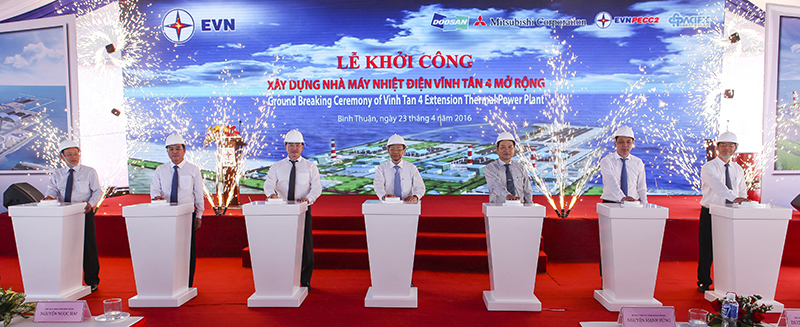 The groundbreaking ceremony on building Vinh Tan 4 TPP Extension (photo EVN).
Vinh Tan 4 TPP Extension with a 600 MW unit is located in Vinh Tan Power Centre, Vinh Tan commune, Tuy Phong district. After extension Vinh Tan 4 will become the largest coal fired Thermal Power Center with a total capacity of 6200 MW in the country. The extension project has a total investment of about $1,104 billion (equivalent 24 trillion VND) and expects to be completed in the fourth quarter of 2019.
Vinh Tan 4 TPP Extension has been additionally approved in the Power Master Planning VII and included in the list of the urgent investment projects in 2013-2020 period at Document No.289/TTg-KTN, Feb.27, 2015.
The project would be implemented by a consortium contractors of Doosan Heavy Industries Group (Korea), Mitsubishi Corporation (Japan), Power Engineering Consulting Joint Stock Company No2 and Pacific Group Joint Stock Company (Vietnam) under the form of Engineering Procurement Contract (EPC).
The extension project developed in Vinh Tan Power Center to take advantage of existing infrastructure as: premises, port, lines of communication, power connection with national power system, and especially items shared with Vinh Tan 4 TPP currently under construction.
When putting into operation, 600 MW Vinh Tan 4 Extension Project will supply electricity for socio- economic development in south-central region and the southern provinces, contribute to reduce dependence of the power system on hydropower plants in the dry seasons; reduce electricity transmitted from the North to the South and electricity losses; increase safety, stability and economic effect in power system operation.
VietnamEnergy.vn