Doosan Vina ensures the rights of employees and gives gifts to people in need during Tet 2022
13:26 | 22/12/2021
- Despite being badly affected by the Covid-19 pandemic that took place for 3 consecutive years since 2019, Doosan Vina always strives to maintain production, create stable incomes for nearly 3,000 employees and especially maintain Tet bonus and gifts for employees and the local needy Tet in 2022.
Facing the same situation of many businesses, Doosan Vina was also negatively affected by the Covid-19 pandemic. Movement, transportation, and travel restrictions have greatly affected production in importing raw materials, exporting products, meeting customers and Sales & Marketing.
By mobilizing all resources, busting innovation, improving productivity, product quality and diversifying production processes, Doosan Vina still maintain stable production, create jobs and regular income for nearly 3,000 employees, including nearly 1,700 employees of the company and more than 1,300 employees of subcontractors.
"The year 2021 was quite a difficult year for us when we have to both keep the production chain unbroken while promoting disease prevention and ensuring the health and safety of employees. Although the company failed to achieve its business and financial goals because the anti-epidemic costs were too big, this year Doosan Vina still maintains Tet bonuses with a month's salary, Tet gifts and support free transport to convey employees and their relatives back home to celebrate Tet Holiday as usual. However, we admit that some of our annual activities and programs have been disrupted," Lee Young Bong, Doosan Vina's Managing Director said.
In 2021, the company paid special attention to protecting and taking care of the health of employees by distributing nearly 45,000 medical masks and thousands of bottles of hand sanitizer, personal drinking glasses and thermos bottles; organizing free periodical antigen tests and PCR tests for employees with a history of going/returning or living in epidemic-affected areas; support money and gifts for employees affected by the implementation of medical isolation, support finance to build houses for employees and so on.
In addition, the company also conducts a series of community charity programs such as supporting 2.3 billion VND to purchase medical equipment for the field hospital treating Covid-19 patients number 3 of Quang Ngai province, contributed 200 million VND to the epidemic prevention fund of the province, carried out maintenance and repair of the seawater purification plant on Ly Son island, supported the cost for upgrading houses for 02 local elderly households, gave gifts for medical treatment and isolation facilities, for children and mountainous people. And coming to 2022 Lunar New Year, Doosan Vina plans to give 100 gifts to needy people in Binh Thuan and Binh Tri communes, Binh Son district.
Doosan Vina
Doosan Vina is a high-tech industrial complex in the Dung Quat Economic Zone of Central Vietnam's Quang Ngai Province employing 2,000 Vietnamese. The company supplies the mega infrastructure products that make modern life a reality. Doosan Vina's products include: Boilers for thermal power plants, Desalination plants the size of a football pitch that turn seawater into fresh, Material Handling Systems like cranes that are the heart of logistics at ports around the world, Modularization and Structural Steel for refineries, buildings and infrastructure developments. To date the company has exported products valued at $2.4 billion.
The Doosan Group
The Doosan Group is a global multinational focusing on Power, Water and other infrastructure developments worldwide. The company is headquartered in Seoul, South Korea, has operations in 38 countries, over 42,600 employees and $22 billion in annual revenue.
Some of the photos: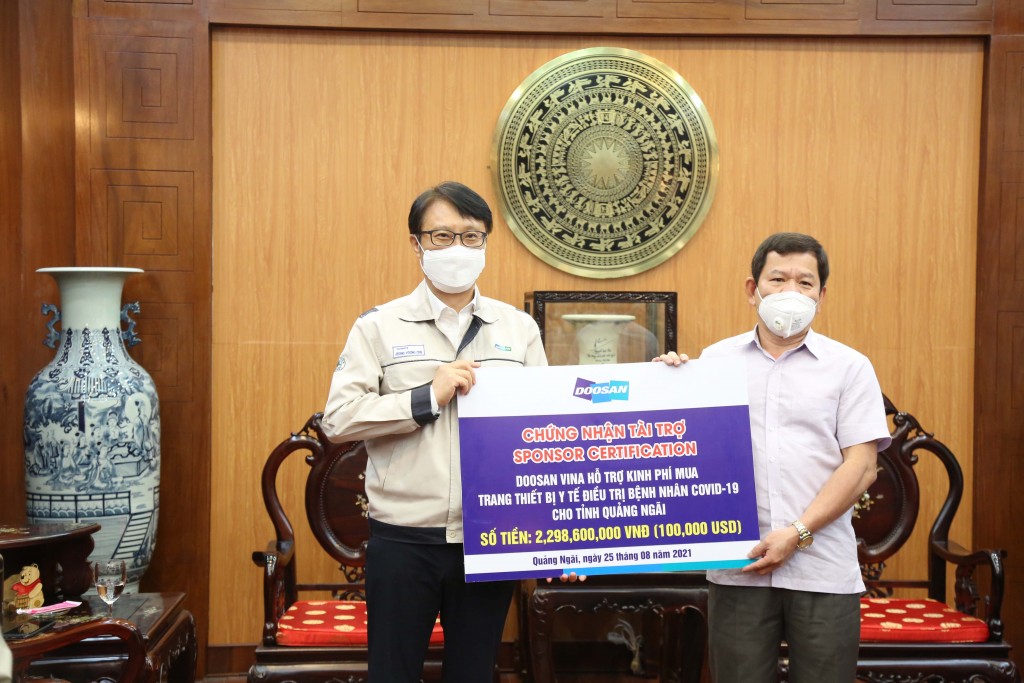 Donating VND 2.3 billion to purchase equipment for the field hospital to treat Covid-19 patients, facility 3, Quang Ngai province.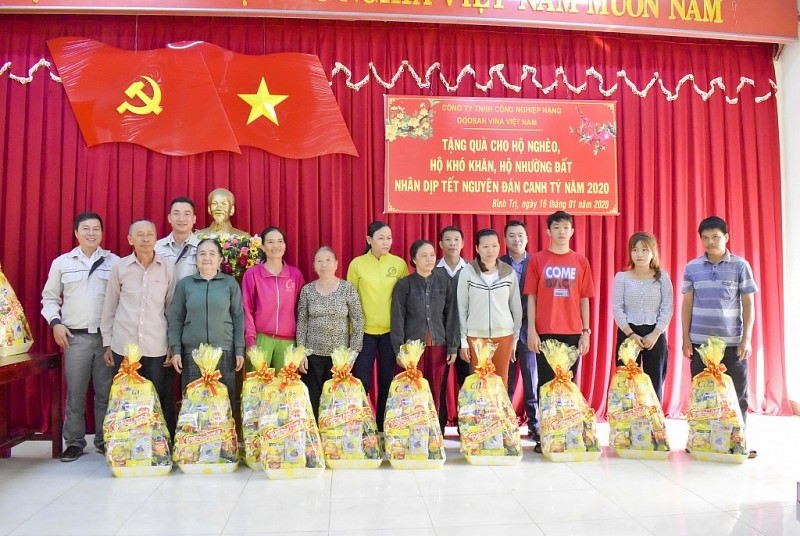 Giving Tet gifts to people in Binh Tri commune.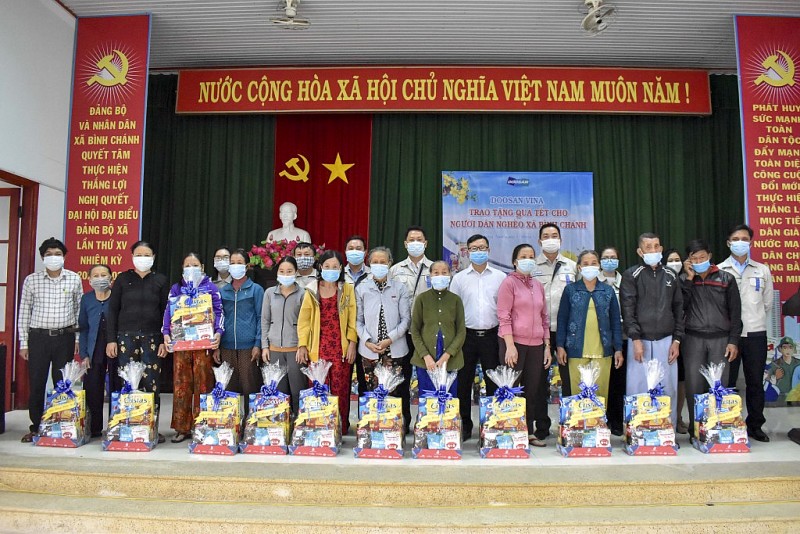 Giving Tet gifts to people in Binh Chanh commune.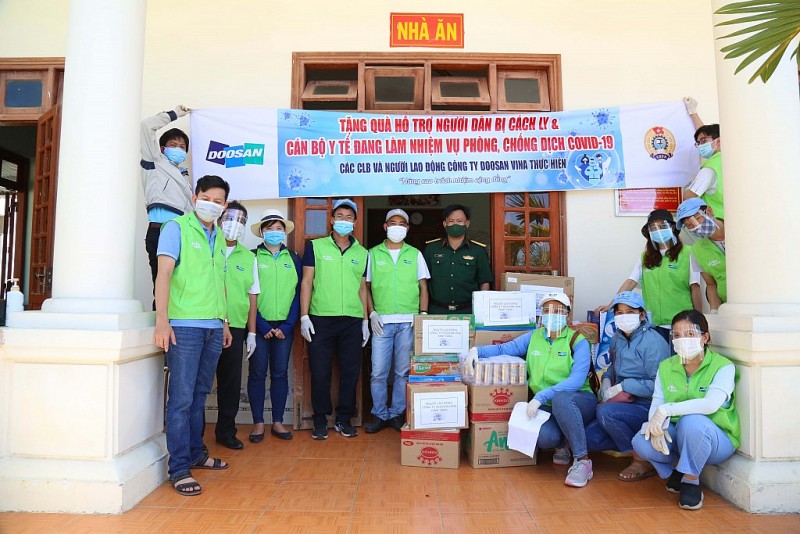 Giving gifts to people to create concentrated isolation areas.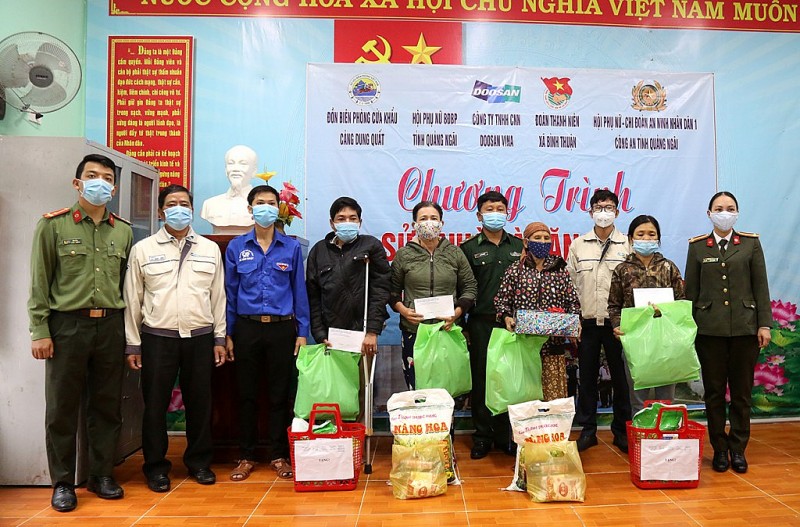 Support to upgrade housing for the elderly alone.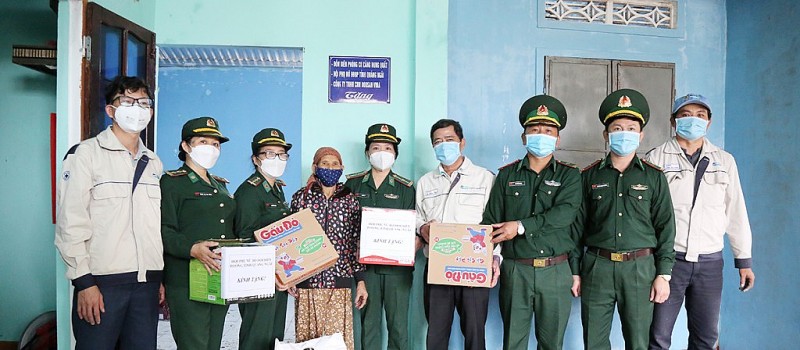 Support to upgrade housing for the elderly alone.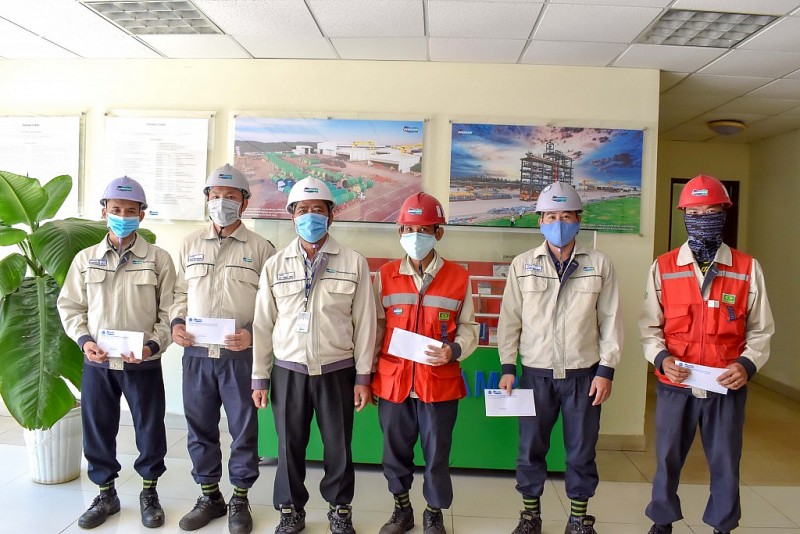 Supporting employees affected by the Covid-19 epidemic.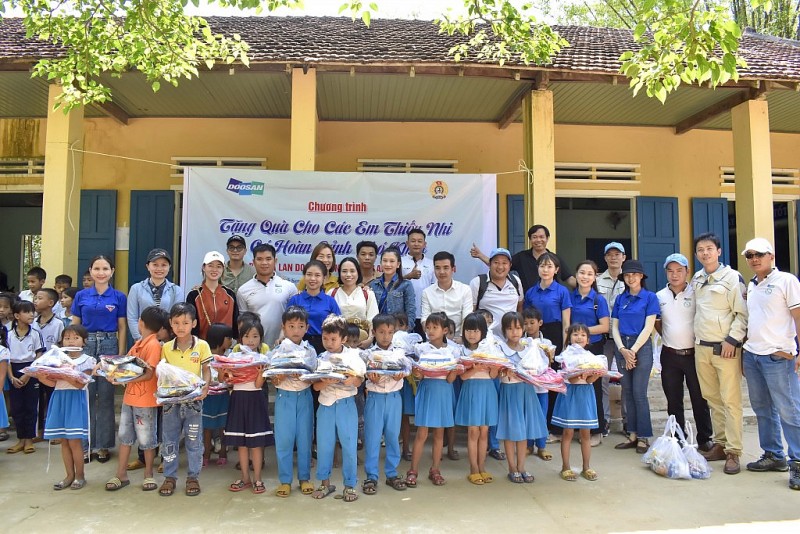 Giving gifts to students in Son Ha district.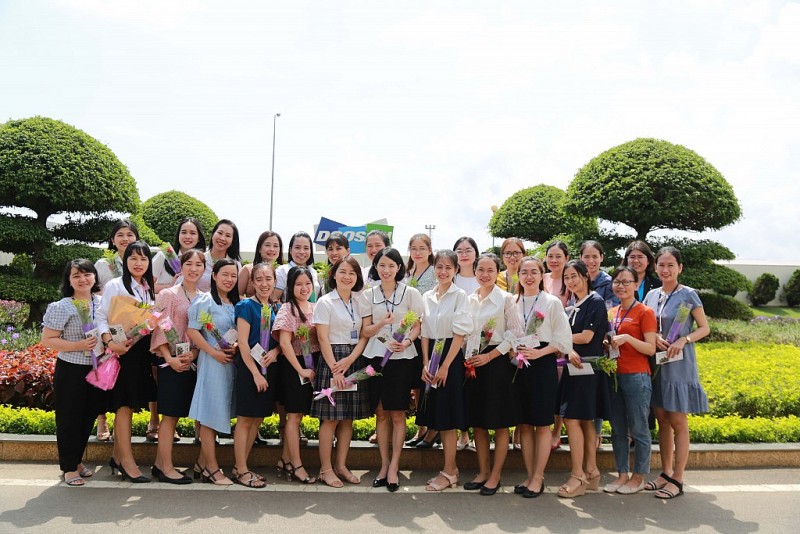 Giving gifts to female employees on Vietnamese Women's Day.