To make breakthrough from Ke Ga off-shore wind power project
09:04 | 10/12/2018
- On December 07, 2018, in Hanoi, Enter-prize Energy Pte. Ltd (EE)Investor in cooperation with Vietnam Energy Association (VEA) held a workshop on "Ke Ga off –shore wind power farm – a new breakthrough for economy of Vietnam".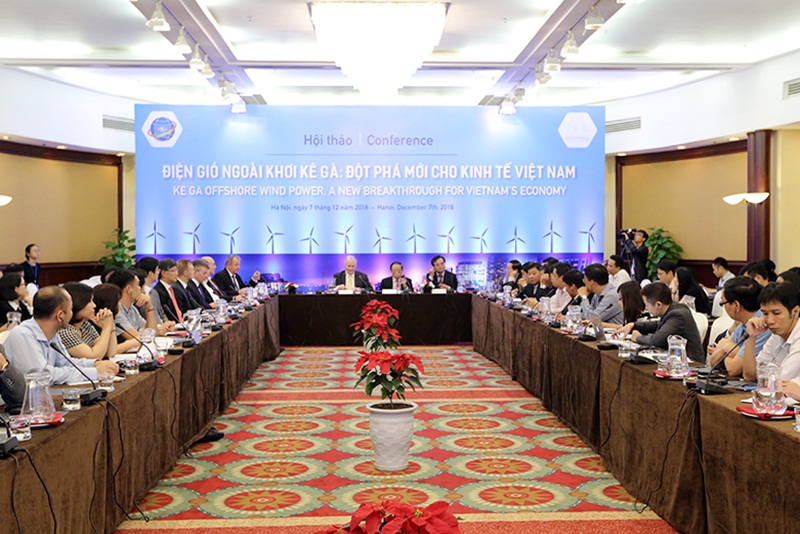 Whole of the workshop
Participants in the workshop were the investors in Vietnam as PVC - MS and Vietsovpetro, World Bank, Société Générale bank, MHI Vestas joint venture - a world's leading wind turbine manufacturer, representatives from the relevant agencies and energy experts in Vietnam.
Speaking at the workshop, Mr. Ian Hatton, EE Chairman, said: the Ke Ga offshore wind power project with a total capacity of 3,400MW, valued around US$ 9 billion excluding investment for power grid connection to national power system will be developed by some of investment phases with a capacity of 600 MW for each phase.
Mr. Ian Hatton also said: the Binh Thuan Provincial People's Committee (PPC) supports the project very much and has sent a paper to Government for consideration, and on June 25, 2018, Government issued the Official Letter No 6964 / VPCP-QHQT dated June 25, 2018 based on the report of Enterprize Energy.
According to Ian Hatton, with the appropriate and stable regulations from the government, reasonable power purchase agreement, using proven turbine technologies from reputable contractors to manufacture and install, the International banks will ensure sufficient capital for developing the project.
VEA Chairman Tran Viet Ngai assessed that Ke Ga project will be the first offshore wind power project in Vietnam.
"Successfully developing this extremely potential, modern and feasible project will provide the power system of Vietnam with a great amount of clean energy and contribute to energy security and environmental protection in the future. Ke Ga offshore wind power project will make a breakthrough for the economy of Vietnam and it should be deployed soon" Mr. Ngai emphasized.
VietnamEnergy.vn