Unit 1 of Nghi Son TPP 2 has been synchronized into the national power system
08:59 | 23/07/2021
- At Nghi Son 2 Thermal Power Plant project (Hai Ha commune, Tinh Gia district, Thanh Hoa province), the general contractor and joint venture of contractors have successfully synchronized unit 1 into the national power sýtem. This event marks the efforts of the investor, general contractor and construction contractors to overcome difficulties in the complicated situation of the Covid-19 pandemic.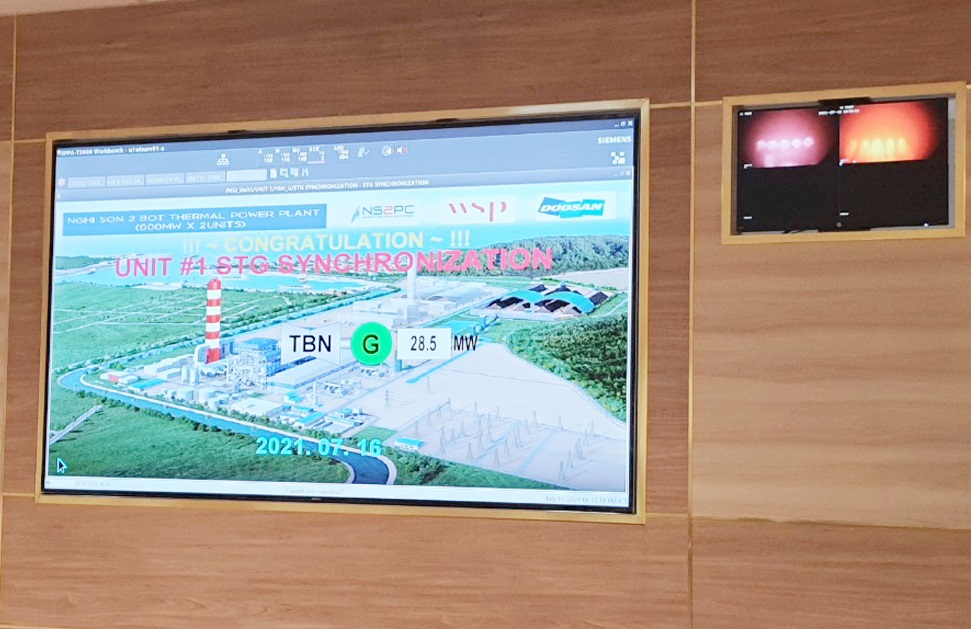 Unit 1 of Nghi Son TPP 2 has been synchronized into the national power system.
At Nghi Son 2 Thermal Power Plant project, Vietnam Machinery Erection Corporation (Lilama) undertakes as the subcontractor for installing about 90% electrical and mechanical equipment of the plant.
At present, the project has achieved the following results:
For unit 1, starting to install the boiler steel structure on 1/3/2019; completing boiler pressure test on 1/9 2020; successfully firing for the first time on 5/3/2021; successful coal burning on 2/7/2021; synchronicity at capacity of 28.5 MW on 16/7/2021), at 110% capacity (665 MW) on 19/7/2021. The unit 1 expects to be in commercial operation on December 2021.
For unit 2, starting to install steel structure on July 2019; completing the boiler pressure test on January 2021; aiming toward the first fire on August 2021.
As for Nghi Son 2 Thermal Power Project, up to the present time, although the Covid-19 epidemic is complicated and spreading throughout the country, Lilama's units thanks to their good work in epidemic prevention and assurance safety, so it still maintains 1,600 officers and workers who are working hard day and night, meeting the next milestones of the project as committed to partners.
Nghi Son 2 Thermal Power Plant Project with a total capacity of 1,200 MW including 2 units (2x600 MW) using supercritical coal burning technology is invested by Marubeni and Kepco Joint Venture, contracted in EPC form by Doosan Heavy Industry Group General Contractor.
VER.