Vietnam participates in Berlin energy dialogue
09:36 | 24/03/2016
- Industry and Trade Minister Vu Huy Hoang joined a crowd of economic and energy ministers, and leaders from economic and energy firms worldwide at the Berlin Energy Transition Dialogue 2016, which took place in the capital of Germany on March 17.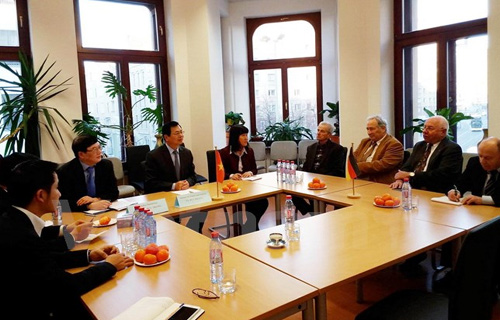 Industry and Trade Minister Vu Huy Hoang hosts a reception for a delegation from the Germany-Vietnam Group - Photo: Vietnamplus.
The Vietnamese delegation, led by Hoang, represented ASEAN member countries to participate in discussions on enhancing international cooperation towards effective use of energy resources and development of renewable energies in the framework of the dialogue.
The Vietnamese official had separate meetings with the German Ministers for Foreign Affairs, and Economic Affairs and Energy, and Slovakian Minister of Economy, and representatives from German leading energy firms such as Siemens, Enercon, and Goldbeck Solar to discuss future cooperation between Vietnam and the two European countries, especially in projects related to energy and renewable energy.
German officials highlighted effective links between Germany and Vietnam in recent time, expressing their hope for increased promotion of trade and investment between the two countries in the time ahead.

Later the same day, Minister Hoang met with representatives from the Aviation and Space Group in the German Bundestag , the Global Wind Energy Council (GWEC), the Oecomineral AG Group and the Messer Group GmnH.
Source: VEN-VNA