Insuring for Ben Tre V1-3 Wind Power Project
08:22 | 21/07/2020
- On July 16, 2020, at Headquarter of Bank for Investment and Development of Vietnam - Hanoi Branch (BIDV Hanoi Branch), BIDV Insurance Corporation (BIC) and Ben Tre Renewable Energy Joint Stock company (BTRE) organized the ceremony on insuring for Ben Tre V1-3 Wind Power Project.
According to the insurance contract, BIC will insure the installation process of BTRE V1-3 Ben Tre Wind Power Project – an offshore wind power project in Ba Tri district, Ben Tre province with a capacity of 110 MW and a total investment level of trillions VND.
The project including the first phase with 30 MW and the second phase with 80 MW implemented after the first phase completion.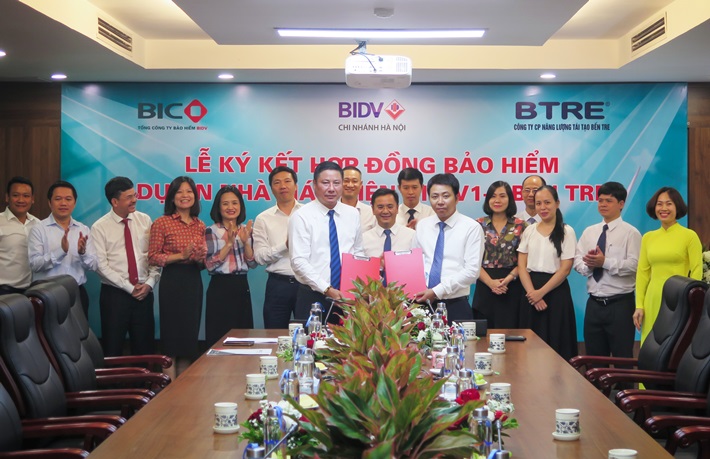 BIC and BTRE leaders insure for Ben Tre V1-3 Wind Power Project.
Ben Tre V1-3 wind power project is one of the projects in the plan helping the Government of Vietnam to achieve wind power capacity of 2,000 MW by 2025 and in the campaign to convert Vietnam energy industry into the low emission energy industry.
Speaking at the signing ceremony, BIC General Director Tran Hoai An said: "Installation and construction insurance is one of BIC's strong positions. With a self –confidence on devotion and the best quality of service, BIC commits to accompany BTRE from the construction and installation process to completing the project".
Mr. Le Huy Hoang, Director of BIDV Hanoi Branch, shared: "BIDV system in general and BIDV Hanoi Branch in particular always devote attention and resources to best serving the customers' activities. For renewable energy, BIDV is a vanguard commercial bank in Vietnam to finance projects in this area. Therefore, Hanoi BIDV and BTRE successfully signed a contract to finance the project. Participation of BIC in insurance for the project installation process will help the parties feel secure and have more confidence in the success of the project".
At the signing ceremony, Mr. Duong Son Tung, BTRE Director high appreciated the professionalism and devotion of BIC in arranging insurance contract for the project and affirmed: "With The professionalism and cooperation from BIDV, BIC, BTRE believes Ben Tre V1-3 wind power project, phase by phase will be safely constructed and put into operation on schedule.
VER.