Signing the US$ 200 million credit contract to support green energy projects
11:08 | 27/06/2019
- On June 25, 2019, in Hanoi, took place a ceremony for signing the US$ 200 million credit contract between Vietnam Foreign Commercial Joint Stock Bank (Vietcombank) and Japan Bank for International Cooperation (JBIC) to finance the renewable energy projects (green energy and environmental protection).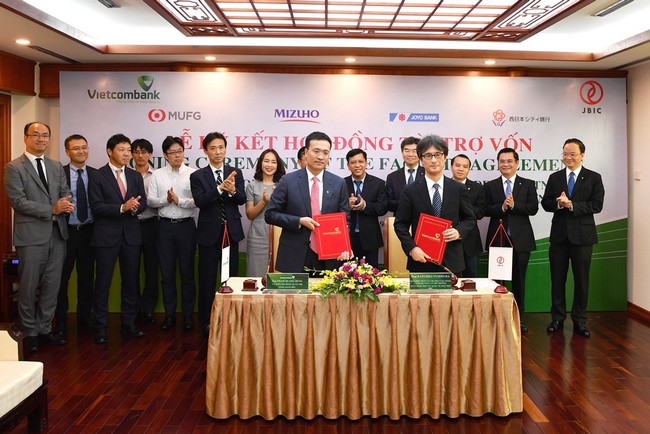 Mr. Pham Quang Dung - Member of the Board of Directors and General Director of Vietcombank and Mr. Kazuhisa Yumikura - Global Director of finance, infrastructure and environment department of JIBIC sign the credit contract.
This is a syndicated credit granted by JBIC as a clue bank to arrange capitals from the four Japanese leading commercial banks - MUFG Bank, Ltd., Mizuho Bank, Ltd., The Joyo Bank, Ltd., and The Nishi-Nippon City Bank, Ltd. The term of the loan is up to 14 years, in accordance with the demand for loans to invest in green energy projects in Vietnam.
According to Mr. Pham Quang Dung, the General Director of Vietcombank: Signing the US$ 200 million contract between Vietcombank and JBIC to support renewable energy projects is an important milestone in the cooperative relations between the two sides. At the same time, it opens a new phase with the close, strategic and comprehensive cooperation and coordination to best exploit the potential of each party and bring common and overall benefits for both Vietcombank and JBIC.
"Based on the clauses of the contract, Vietcombank will coordinate with JBIC to optimize the positive social and environmental impacts of the loan" - Mr. Dung emphasized.
Mr. Kazuhisa Yumikura said: JBIC always considers environmental protection as a key task, so it usually efforts to expand financing modes for renewable energy projects, contribute to general solutions to overcome global warming phenomenon. In July 2018, JBIC implemented the High-Tech Infrastructure Development (QI-ESG) program, and is actively trying to shape meaningful projects in the environmental protection.
According to Kazuhisa Yumikura, the contract for this credit package is also included in the QI-ESG program that the first time implemented in Vietnam, with focusing on projects in the Green field.
This is a project with symbolic meaning for JBIC, and it is a great honor for JIBIC to cooperate with Vietcombank, one of the leading banks in Vietnam, a pioneer in the renewable energy sector.
VietnamEnergy.vn