The coal sector commits to supply fuel for EVN power projects
09:24 | 14/12/2018
- On 12/12/2018, the first long-term coal contract for power projects between Vietnam Coal and Mineral Industries Holding Joint Stock Corporation (Vinacomin) and Electricity of Vietnam (EVN) was signed. On the occasion, Mr. Trinh Dinh Dung, Vice Prime Minister said: "this event confirmed the message "no coal shortage for electricity generation, no electricity shortage for economic development".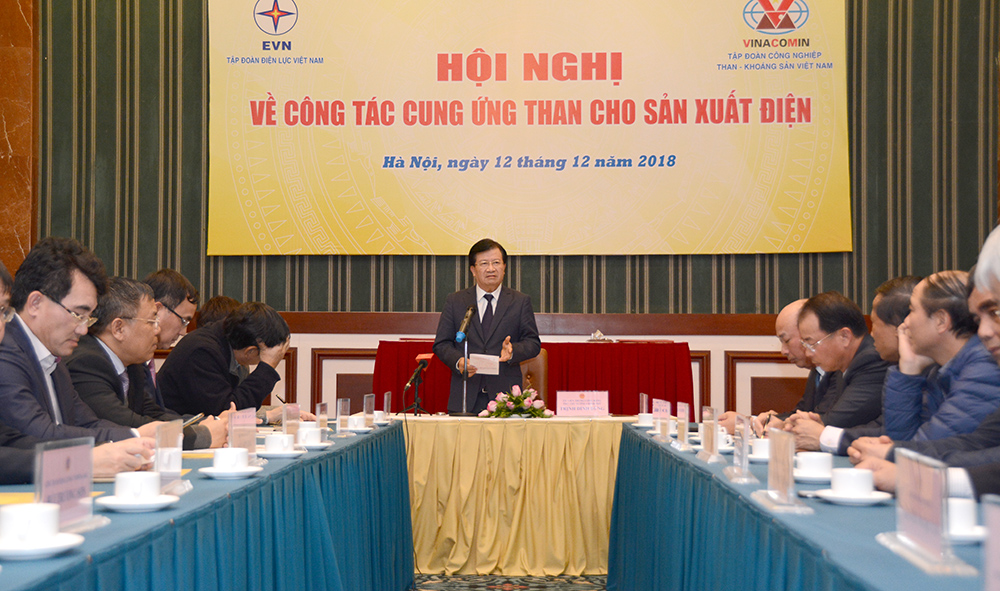 Deputy Prime Minister Trinh Dinh Dung delivered a speech at the conference
In recent years, the power industry has been trying its best to provide enough electricity for the economy. However, the risk of electricity shortage should be very high in the coming time if do not drastically concentrate on constructing power plants, removing difficulties for power projects and ensuring inputs (water, coal, oil, gas) for electricity generation.
"If the coal supply is not well resolved, the power shortage will occur in 2019 and the following years," Mr. Dung emphasized and required: "In any situation and by all means, it is necessary to ensure enough electricity for economic development and life of the people".
In order to sufficiently supply coal for the thermal power plants, Vice PM Trinh Dinh Dung requested: the Ministry of Industry and Trade (MOIT) to urgently approve the coal supply diagram for coal-fired power plants; to make a comprehensive plan on the demand for all kinds of the coal, including domestic and imported one; the MOIT in presiding and cooperating with the Ministry of Science and Technology (MOST), EVN to study solutions for using domestic and imported coal mixture in condition to guarantee the fuel quality, environmental factors to overcome the anthracite coal shortage in the power plants; Vinacomin, the Northeast coal corporation, EVN and other coal customers urgently to sign the agreements for coal trade in 2019 and the medium term, long term coal trade and strictly implement the agreements to sufficiently ensure coal for power generation; the Ministry of Finance to guide the domestic coal production companies to define coal prices in accordance with the law on prices in the market principle to ensure efficiency of the coal production and business.
Regarding the imported coal, Vice PM requires the investors of the coal-fired thermal power plants to be responsible to arrange the coal sources for supplying their power plants as prescribed.
VietnamEnergy.vn