Vinacomin promotes production and business rightly from the first days of the year
15:22 | 11/01/2022
- On January 4, 2022, Vietnam Coal and Mineral Industries Group (Vinacomin) held an online meeting on production and business management in January 2022.
At the meeting, it was informed that the units actively implemented Covid -19 pandemic prevention and protection by ensuring safe and secure activities and promoting production and business under plan norms just from the first days of the beginning year.
In the first days of the year Vinacomin units in the Cam Pha area produced 61,000 tons of crude coal and sold 21,000 tons mainly for the thermal power plants.
Although Covid-19 pandemic development was very complicated affecting too much to production, but units in the Western area (Quang Ninh) promoted the pandemic prevention grade and coordinated with local authorities for the pandemic prevention in the territory.
The pit-mining units produced normally and implemented pandemic prevention measures for ensuring production and business in 2022.
The units producing alumina in Lam Dong, Dak Nong provinces, and producing coal outside Quang Ninh province
also step up production from the first days of the year and strive to complete the assigned plans, and actively adapt to flexibly, safely and efficiently with pandemics.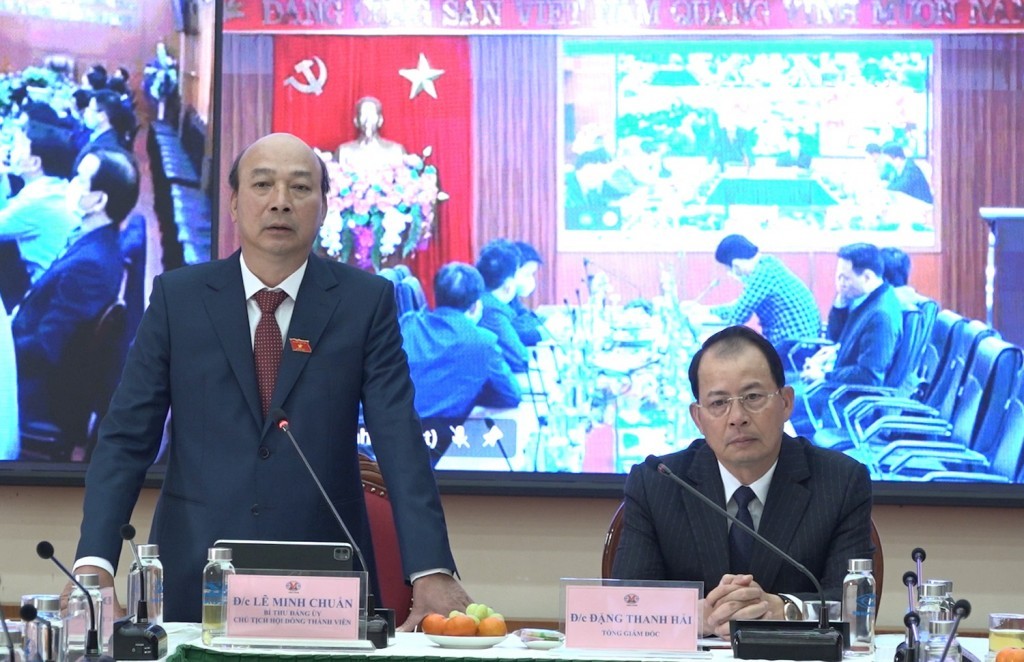 Secretary of the Party Committee, Chairman of the Board of Members of the Vinacomin Group Le Minh Chuan delivered a speech at the conference.
Speaking at the meeting, Vinacomin Chairman Mr. Le Minh Chuan informed that the Government implemented the vaccination for people with high rate and decided the third dose of vaccine for communal immunity. Mr. Chuan called upon all Vinacomin employees to be not subjective and inattentive but seriously to implement the measures and regulations on pandemic prevention.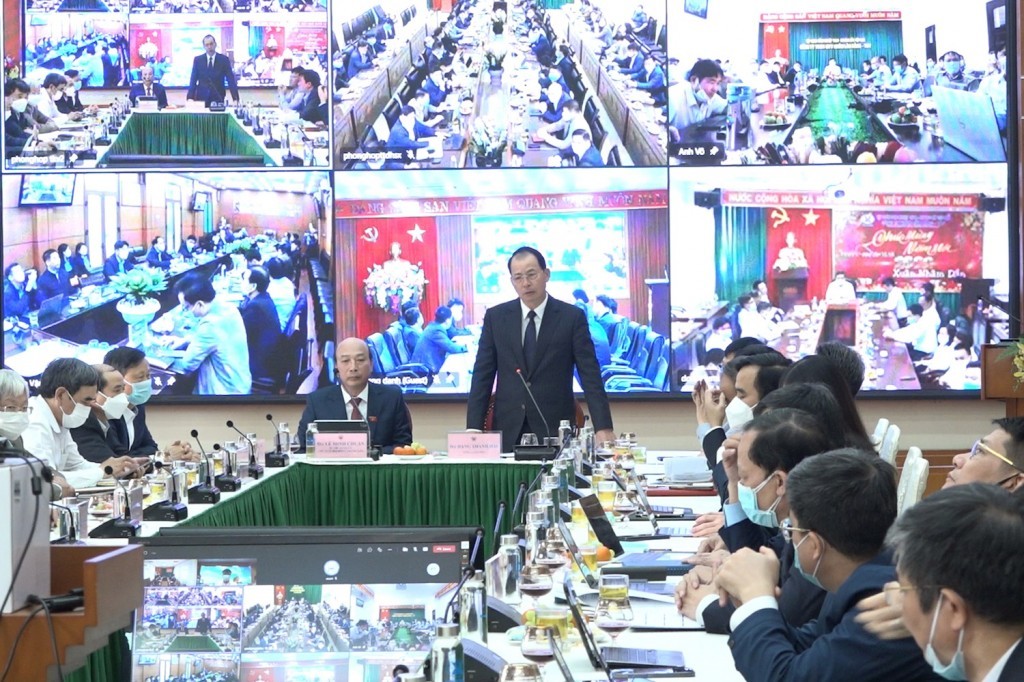 General Director of Vinacomin Dang Thanh Hai delivered a speech to direct the implementation of tasks in January 2022 and the coming time.
Deploying tasks in January /2022 and coming time, Mr. Dang Thanh Hai, Vinacomin General Director proposed to focus on efficient Covid-19 prevention. Due to the pandemic complex development, the Vinacomin hospitals must prepare to cure for Covid-19 patients and negotiate with Quang Ninh authority for undertaking the function to cure for Covid -19 laborers. Mr. Dang Thanh HaI also asked Vinacomin specialized boards to review, remove the difficulties, problems in 2021 and the new raised difficulties, especially the financial norms, production values, promote digital transition and carry out 'digital enterprise" target.
On behalf of Vinacomin leaders, Mr. Dang Thanh Hai expressed thanks to leaders of member units, employees of the Group to have many contributions to the successes of Vinacomin in 2021, and proposed the units to step up production and complete the production, business plan in January/2022 with the targets: producing crude coal of 3.7 million tons, selling 3.931 million tons, pit digging of 22,000 meters and shoveling soil and rock of 13.950 million cubic meters