In 2020, Vinacomin achieved '3 good results'
15:47 | 26/01/2021
- In 2020, Vietnam Coal and Minerals Industry Group (Vinacomin) successfully implemented "double goal" as to prevent and resist the Covid-19 pandemic, and to ensure stable and efficient production and business with " 3 good results" as - good production and business, good Covid – 19 pandemic prevention and good implementing activities to care for employees and social welfare.
On January 21, 2021, in Hanoi, Vinacomin held a conference to summarize the planned targets in 2020 and deploy the tasks in 2021. The Deputy Prime Minister (DPM)Trinh Dinh Dung attended and addressed with directing statement.
DPM Trinh Dinh Dung high appreciated the leadership and employees of Vinacomin in overcoming a lot of difficulties to successfully implement production and business tasks, Covid-19 pandemic prevention and social welfare in 2020.
In 2020, Vinacomin implemented 100 % planned targets with mining 38.5 million tons of crude coal, selling 42 million tons of clean coal, producing 1.42 million tons of alumina equal to 109 year plan, and generating 10.6 billion kWh of electricity equal to 108% in comparison with 2019. The production of the industrial explosive, mechanical, construction materials … also achieved the good results. The financial targets achieved by Vinacomin in 2020 are as follow: Turnover – 123,425 billion VND, State budget payment – 19,500 billion, benefit – 3,000 billion, average salary – 12.8 million VND/person/month, specially for pit worker – 20 million VND/person/month.
In 2021, Vinacomin should promote 85-year tradition of "Discipline and Concentricity" to successfully implement the planned targets with following main norms: the turnover of the whole group as 123,880 billion VND, State budget payment – 17,900 billion, benefit – 3,000 billion, crude coal production – 38.5 million tons, coal sale – 42 million tons, alumina production – 1.3 million tons (equivalent), electricity generation – 10 billion kWh…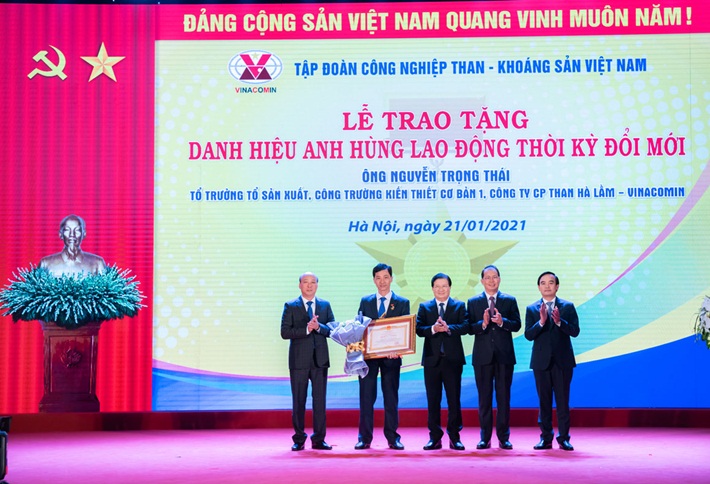 Authorized by the State President, Deputy Prime Minister Trinh Dinh Dung awarded the title "Labor Hero in the renovation period" to the pit worker Nguyen Trong Thai, a production leader of Ha Lam Coal Joint Stock Company.
Addressing the conference, DPM Trinh Dinh Dung said that the energy sector in general, and coal and mineral sector in particular, has very important role for economic development of the country. In coming time the energy demand should be more and more increased, so the general requirements for Vinacomin are as follow:
Firstly, continuing to renovate development thought, taking drastic action, overcoming difficulties for development, ensuring sufficient coal supply for economy, specially for power generation.
Secondly, Establishing the development strategy of Vinacomin to 2030, vision up to 2050. At the same time establishing the plans for every period associated with investment, expanding search, exploration, exploitation of resources on the safety and saving basis.
Thirdly, researching to build coal entrepôt ports, warehouses, promoting wide and deep mechanism, automation and computerization in the group.
VietnamEnergy.vn.