EVN and JERA in cooperation research and apply the de-carbonization technology for coal-fired power plants
14:56 | 06/10/2023
- On October 5, in Hanoi, the Electricity of Vietnam (EVN) and the Japanese JERA Company signed a Memorandum of Understanding (MOU) on cooperation towards the goal of de-carbonization.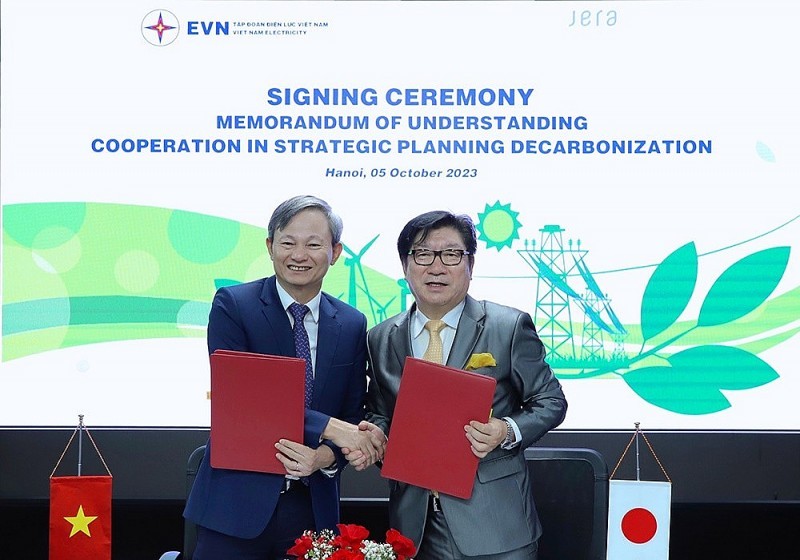 Mr. Tran Dinh Nhan - General Director of EVN and Mr. Toshiro Kudama - Senior Executive Director of JERA signed a Memorandum of Understanding
According to MOU, JERA will support the roadmap for developing, researching and applying the technology for co-burning ammonia and hydrogen in EVN existing coal-fired power plants.
At COP26, Vietnam committed to a carbon-neutral roadmap by 2050. This goal poses enormous challenges for Vietnam's energy industry, especially the electricity industry, while ensuring energy security, supplying a stable power source to the socio-economic development of the country and implementing commitments to reduce CO2 emissions and minimizing the environmental impacts of the power generation activities.
According to the Power Development Planning VIII, although the proportion of Renewable Energy projects (including hydropower plants) in the total source structure has high increased and after 2030 no more coal power plants will be developed. However, It is expected that by 2030 there will still be over 30 GW of coal-fired thermal power plants in operation and over 39 GW of the capacity using LNG.
In the above context, Mr. Tran Dinh Nhan, EVN General Director said that EVN needs to have solutions to reduce CO2 emissions for existing coal power plants, through improving efficiency. On the other hand, EVN needs to convert to using biomass fuels by co-burning the ammonia and hydrogen, researching the technologies for carbon capture and storage applied in developed countries to consider applicability in Vietnam.
However, resources on technologies, experience and finances in Vietnam are currently quite limited, so it is important to maximize opportunities for technology transfer and financial support from developed countries, especially in the field of de-carbonization technology like Japan.
EVN General Director also hopes that JERA will continue to support the sustainable development of Vietnam's electricity industry in the new context while promoting the long-term cooperative relationship between the two sides. At the signing ceremony of the MOU on cooperation towards the goal of de-carbonization, EVN and JERA agreed to coordinate and develop an action plan to implement specific cooperation contents as follows:
1/ Developing a roadmap to decarbonize coal-fired power plants.
2/ The overall de-carbonization roadmap for EVN.
3/ Researching and applying de-carbonization and ammonia and hydrogen co-burning technologies for EVN existing coal-fired power plants.