Vinacomin and Agribank sign a cooperation agreement
21:14 | 02/11/2014
- On Octorber 28th, 2014, in Ha Noi, Vietnam Bank for Agriculture and Rural Development (Agribank) and Vietnam National Coal – Mineral Industries Holding Corporation Limited (Vinacomin) have signed a cooperation agreement.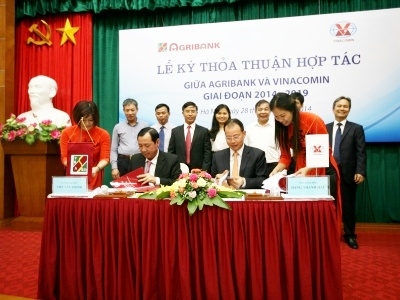 Agribank and Vinacomin sign the cooperation agreement.
Agribank and Vinacomin together build a mechanism for mutual coordination, systematical business cooperation and timely satisfying business activities of two sides.

Agribank and Vinacomin will unify the cooperation programs for each concrete stage in accordance with the signing agreement.
Accordingly, Agribank supports credit and finance-bank services for Vinacomin, that will be implemented directly between Agribank and Vinacomin (including the corporation and its member units).

Beside the decisive role in credit investment for the agricultural and rural development in accordance with the policy of the Government and the State Bank, Agribank attaches special importance to expand investment to various sectors, including coal - minerals industries.
Agribank pledges to provide the best service productsfor Vinacomin and believes two sides always to be the mutual important strategic partners, ensure a more and more sustainable long-term cooperation and bring into play strong position of each party to overcome difficulties and challenges, take opportunities for stronger development in future.
Regarding the credit services, based on the credit needs of Vinacomin (including corporation and its member units) and the capital source of Agribank, Agribank commits to provide a VND10 trillions minimal credit within 05 years for Vinacomin to finance or be a clue for arranging capital to meet a need for mobile capital loaning, project financing and guaranteeing, vouchers discounting, finance leasing...in order to serve the production and business activities and feasible investment projects of Vinacomin.
Vinacomin will open deposit account by VND and foreign currencies at Agribank Exchanges or other entities apointed by Agribank, encourage suppliers, customers who are using the services, the products of Vinacomin to open the accounts and make payment transactions with Vinacomin at the branches under Agribank system ...
VietnamEnergy.vn