Starting the Underground mining project below -150 of Mao Khe mine
10:22 | 21/11/2014
- On November 19th, Mao Khe Coal Company held a Groundbreaking Ceremony of pair of vertical sharps - Underground mining project below minus 150, Mao Khe mine.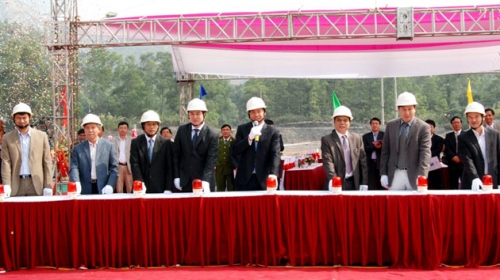 The project has a capacity of two million tonnes of coal per year, including the central pair of shafts. Main shaft is dug from the ground level +26 to -400, 426m long, equipped with skip bins to transport coal. Auxiliary shaft is dug from the ground level +26 to -426.5, 452,5m long, fitted crib barrel to transport people, spoil, equipment and materials.

Total investment of the project is over VND 5,800 billion; 32 year exploitation period with industrial reserves are more than 59 million tons. When completed, the project will contribute to maintain and enhance the extraction yield of Mao Khe mine in particular, the coal industry in general, contribute to ensuring national energy security in the coming years.
The Undergrounding mining project below minus 150 of Mao Khe mine under the Coal Industry Development Planning to 2020, with prospect consideration up to 2030.
VietnamEnergy.vn