A VND 800 billion credit fund for pit mining at Nui Beo coal mine
09:35 | 25/06/2014
- At Halong City, Quang Ninh Province, the Vietnam Foreign Trade Joint Stock Commercial Bank (Vietcombank) and the Nui Beo Coal Joint Stock Company (JSC) signed a VND 800 billion credit agreement for a pit mining project at Nui Beo coal mine.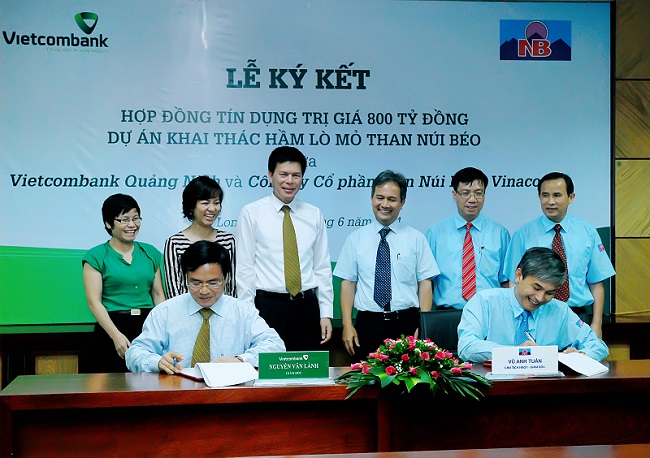 The signing ceremony between representatives of Vietcombank and Nui Beo Coal JSC.
Pit mining project of Nui Beo coal mine located at Ha Tu commune, Ha Long City, Quang Ninh Province, is the first pit mining project designed and constructed by Vinacomin itself and transferred to Nui Beo Coal Company as an investor. This also is a project of the digging vertical kiln wells by the most modern technology at present from Ukraine that is being applied broadly over the world.
With a design capacity of 2 million tons of coal per year, the project is considered as an important turning-point, marking a new step of development of Nui Beo Coal Company when moving from the open mining to the pit mining. This project is expected as a premise for construction a series of vertical well pit mines in the coming time. It is expected the project will provide the first coal tons by 2017, 1.7 million tons by 2018 and reach the designed capacity of 2 million tons /year by the 2019.
Mr. Nguyen Van Bien - Vinacomin deputy General Director highly appreciated the effective cooperation of Vietcombank in recent yeas, the active and timely support of Vietcombank had a very important mean inassisting Nui Beo Coal Company to speed up the process of the project implementation project in order to early achieve the outlined goals.
Speaking at the ceremony, Mr. Pham Manh Thang, Deputy General Director of Vietcombank emphasized: The signing ceremony of the credit agreement markes a new step in relation between Vietcombank and Nui Beo Coal Company, further confirms companion commitment and long-term support of Vietcombank to Vinacomin and its member units in particular, and for the development of the coal industry in Vietnam in general.
Vietnamenergy.vn